Description
NCM C7
Introduction
Minimal Design, Maximal Performance. The NCM C7 is fully equipped E-bike for city commutes. Whether you are trying to get to work on time, while being sweat free, or need to rush to your favourite place in style, the all new NCM C7 lets you cover your daily journeys with ease. This E-bike is designed with a tough aluminium frame, and a strong rigid handlebar and saddle for improved ergonomics and performance. The high top tube, makes the bike sturdy and strong allowing the power you put down to be effectively transferred to the road.
Key Features
Ergonomic bicycle Grips

250W Das-Kit rear-drive motor with intelligent torque sensor technology

Removable and lockable 36V 504Wh extra large battery capacity

Reach up to 80km (depending on the conditions)

Rear carriers integrated in the frame for stylish panier bag
Specifications
 
NCM C7 Medium 
                        NCM C7 Large

 

           

Motor

Das kit, X2, 36V250W, 25km/h 

Das kit, X2, 36V250W, 25km/h 

Battery

Das-Kit, I6s-3614, 504WH

Das-Kit, I6s-3614, 504WH

Display

Das-kit E2 Advanced, LCD Display

Das-kit E2 Advanced, LCD Display

Charger

Das-Kit, DC363, 36V3A

Das-Kit, DC363, 36V3A

Frame

Alu. 6061, 520MM

Alu. 6061, 580MM

Forks

ZF, 5058-01, 27.5'', rigid fork, PM

ZF, 5058-01, 27.5'', rigid fork, PM

Braking System

Gemma Hydraulic Disc Brake GA-900

Gemma Hydraulic Disc Brake GA-900

Gear Selector

LT-8 Speed, BK

LT-8 Speed, BK

Rear derailleur

LT-8 Speed, BK

LT-8 Speed, BK

Saddle

Selle Royal A236URN

Selle Royal A236URN

Tyre

CST, C-1953, 700*38c, Black

CST, C-1953, 700*38c, Black

Handle Grips

VELO,VLG-776AD3 Black

VELO,VLG-776AD3 Black

Pedal

Wellgo,C280DU

Wellgo,C280DU

Range

Up to 120 km

Up to 120 km

Weight

 22 kg 

23 kg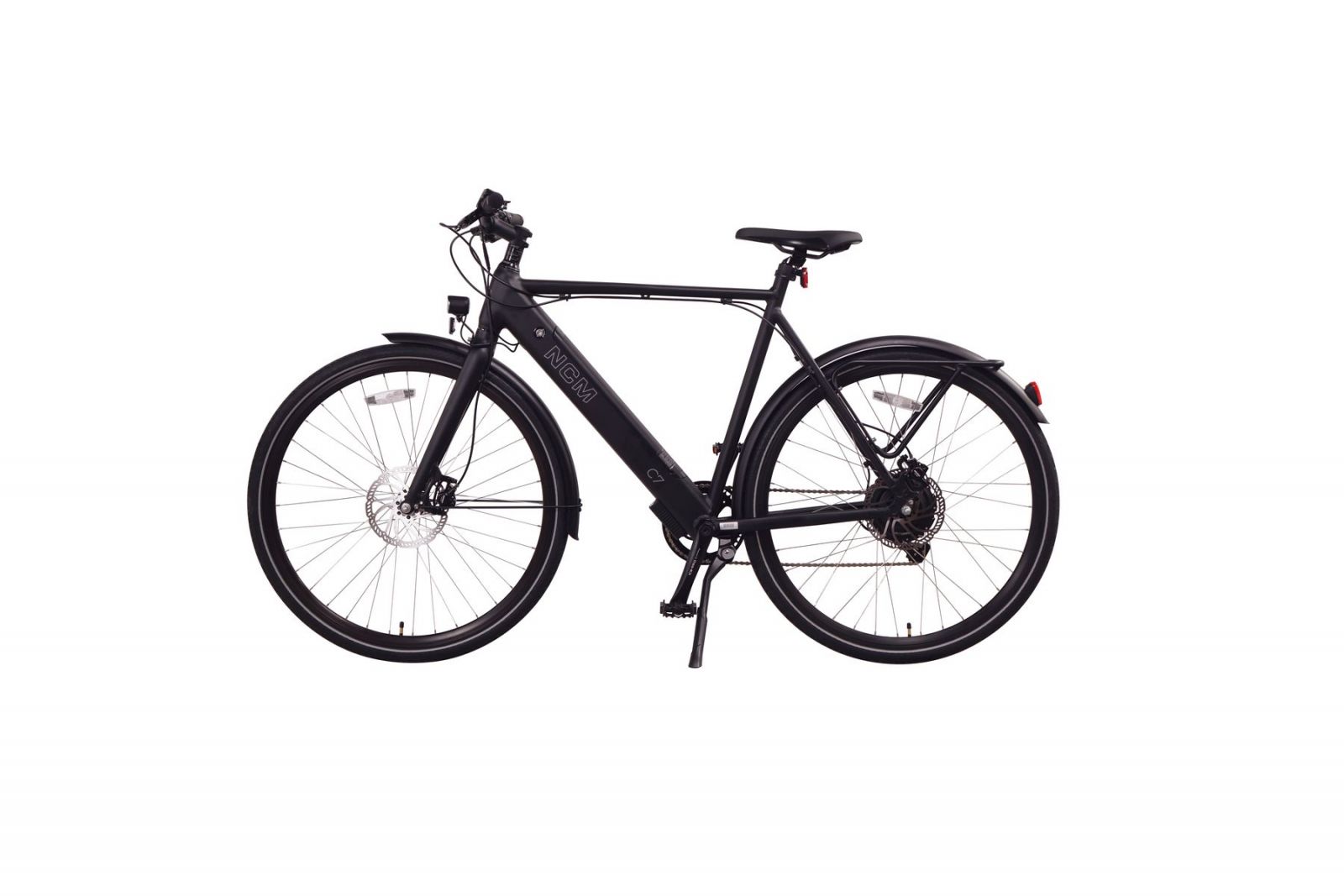 Warranty
1 year warranty on all electronic parts (including battery, motor, controller, display, lights)

2 year warranty on the bike frame

Apart from manufacture defects that could be present, parts that wear due to normal use (such as tires, brake pads, chains, spokes, freewheel, tire puncture etc) are not included in the warranty but maybe replaced on a case by case basis within the first 6 months.

Our bikes are water resistant but not waterproof. Water damage is not covered under warranty.
About NCM
NCM Bikes, founded in 2014, has quickly become one of the largest pedelec and e-bike brands in Europe with the goal of expanding the market significantly in the near future. NCM is the perfect brand to start your pedelec experience whether you are an avid cyclist or a relative newcomer, we are committed to providing you with a range of high quality. Our innovative technologies ensure that we can differentiate ourselves from the competition and continue to offer the latest technologies. Our goal is to help improve the environment through a friendly riding experience and the promotion of a fun and active lifestyle.
Notes
In order to ensure our high quality standard, our bicycles are subjected to a functional test at the factory. This can lead to dust deposits on the tyres and the seat post. Our bikes are only delivered pre-assembled, a final fine adjustment and inspection by the buyer or a third party is necessary (costs incurred for this cannot be covered). Before riding, please check all screws for strength and carry out a fine adjustment of the gears and brakes. Check the tyre pressure. Depending on the bicycle model, the final assembly and inspection of the components should take between 60 and 90 minutes.
IMPORTANT NOTICE:
The laws around the use of scooters/e-bikes on public lands, roads and areas vary from state to state.
We recommend you always check your local council and road traffic laws prior to using a scooter/e-bike to ensure you are aware of any restrictions that may affect the use of motorised vehicles.
Always use appropriate protective riding equipment such as an approved helmet and suitable clothing.

Click here to view our warranty policy

Payment & Security
Your payment information is processed securely. We do not store credit card details nor have access to your credit card information.